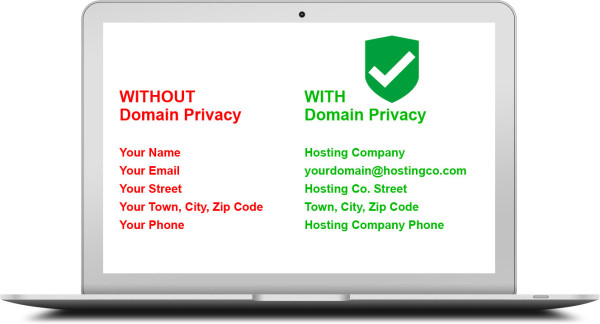 Have you ever purchased a domain and then wondered why you start to get emails from the strangest places.  Maybe you are not aware of "WHOIS"!
WHOIS is an internet service where you can find information about a domain name or IP address. The information contains the name, address, and phone number of the administrators, billing, and technical contacts of the domain name.  If you have not chosen to get domain privacy, that information is YOURS.  That means your personal name, address and phone are out there for the world to see.  When purchasing domain privacy, the information listed is now the address, email and name of your privacy provider through your hosting company.
Hackers who hijack domains usually use them to deliver spam, spread malware and to carry out scams. Domain privacy safely hides your personal information hackers need to take control of your domain.
If you are not sure if your domain name has domain privacy, you might want to take a look by going to https://www.godaddy.com/whois. If you don't have privacy on your domain, you will realize why it is definitely worth it.
Cheers,
Caroline Williams
https://www.facebook.com/relativecreativecontent/
https://twitter.com/rccdigital